RESIDENTIAL SAFETY NETS
Aotea Safety Nets Limited, a subsidiary of Aotea Roofing Limited are now a certified installers of residential safety nets.
Aotea Safety Nets Limited specialises in the supply and installation of residential safety nets.
The safety nets are sized to fit the majority of rooms and are connected to the walls just below the top plate so there is no interference when installing the trusses.
Our safety nets are all certified and tested every year.
We need the floor plan with the order so we have the right sized nets when we arrive. Our net sizes range from small m1*2m nets for closets up up to 10m*10m nets for the lounge and garage areas.
Once signing up, you will be sent terms and conditions for treatment of the safety netting. A handoversheet will also be left in the garage, outlining these conditions. We do offer the residential safety netting service to be charged via your merchant account. eg. Placemakers, Carters and ITM.
For best practice we need a minimum of clutter on the floors to remove trip hazards and it is best if all materials are not piled on the floor - the nets are tight enough to remove most sag but we need to comply with safety standards.
We will cover the Greater Wellington Region including Paraparaumu, Waikanae, Otaki and Wairarapa. We also service Manawatu Region.
Please contact us to see if we can be of service.
Office Administrator (Cassidy) - Phone 022 312 8869
infoaoteasafetynets@gmail.com
melsafetynets@gmail.com
Mel Symons - Office Manager - Phone 021 910 900
0800 NETS2U - 0800 638 728

Worksafe now require a fall through protection when installing trusses and roofing. We strongly believe that our residential safety nets are the best fall through protection on the market. Once you have tried this system, we are confident that you will also agree!
AOTEA SAFETY NETS LTD ARE FASET QUALIFIED NET RIGGERS IN ACCORDANCE WITH BS8411:2007 CODE OF PRACTIcE.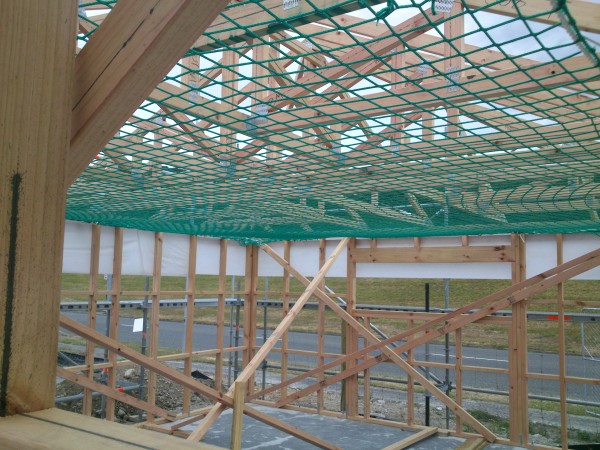 An example of a net installed in Wellington