| | | |
| --- | --- | --- |
| | Aotea Roofing Limited | |
| | "new & re-Roofing Specialists, we aim to provide the best possible service to ensure a stress-free process" | |
| | | |
Craig Symons - Managing Director
Hi my name is Craig I was born in Wellington, but raised in Palmerston North, I returned to Wellington over 20 years ago to work and play softball. I have lived in the Whitby/Aotea Suburbs for a number of years. I am a very family orientated person and have three girls so enjoy spending time with them, and watching them, compete in karate, play softball and netball.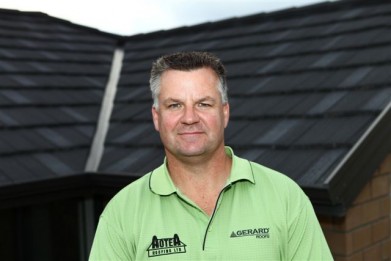 I have a strong passion for sport, especially rugby and softball. I was the Captain of the NZ Under 17 Rugby Team and represented Manawatu in age grade rugby in my younger years. Unfortunately I gave rugby away to concentrate on softball.
I have represented New Zealand playing softball and was fortunate enough to play for the 1996 World Champion Black Sox. I have also represented Hutt Valley for about twenty years. My local team was Cardinals in the Hutt. For the Cardinals team I played, coached and was even on the committee for twenty years.
In recent years I have Coached the Porirua under 11,13,15 girls softball teams and the Under 9,11,13 Softball teams at Pareplim.
I have coached netball for Samuel Marsden Whitby, Whitby Collegiate and the Waves Netball Club.
MEL SYMONS - OFFICE MANAGER
Hi my name is Mel Symons. I am originally from Christchurch, and have over twenty years experience in administrative roles which I have held both in Christchurch and Wellington.
We have three girls who are all very sporty, our weekends are spent at softball, netball, karate etc. all of which I normally end up managing a team or two or scoring.
I look after all of the accounts for Aotea Roofing Limited and the scheduling for Aotea Safety Nets Limited which Craig and I also own.
Phillip Rongonui retired Late january 2017, after 30 years roofing! We wish phil all the best for his future.
Why we're here
Craig Symons and Phillip Rongonui started Aotea Roofing Limited 2009, in Aotea Porirua, after taking over the Gerard Distributorship previously held by Harvey Roofing Centre in Tawa servicing the Wellington area for over 30 years. We both worked for the Harvey Roofing Centre and have a passion and knowledge of the Gerard Products. We have over 30 years experience in the building industry. At Aotea Roofing Limited we aim to provide the best possible service to ensure a stress free process.
Who We are
We're a company that prides itself on quality workmanship. We are proud to be Gerard Certified Roofers .We are committed to ensuring the safety of our staff and the safety of our clients. We have a health and safety app called BWARE for all of our onsite health and safety documenation. We are committed to the ongoing training and up-skilling of our staff
Mel & Craig Symons own a subsidiary company Aotea Safety Nets Limited, specialising in the installation of residential safety nets for fall through protection on new builds.
Why Work with Us?
We are locally owned and operated, we are qualified (licensed building practitioners , Craig BP119278. For further information on licensing please visit the Department of Housing website.
Craig brings with him a wealth of knowledge having worked within the building industry for the last 30 years. Craig also worked for AHI Roofing Limited as a Regional Sales Manager Lower North Island for four years. Craig brings to the company a complete and comprehensive knowledge of Gerard Roofing Systems.
We are experienced having over 30 years experience in the building industry, we are members of the Roofing Association of New Zealand,We carry a five year workmanship guarantee, our products carry product guarantees, we make payments easy accepting payments via MasterCard and visa.
Aotea Roofing Limited is an integral part of the community and as such we are proud to support The Special Children's Christmas Party 2013, 2017 and Adventure School's Duathlon 2013, 2015 & 2017.
Aotea Roofing Limited are proud to support Movember. (A cause close to our hearts, given that Mel's Dad lost his fight to prostrate cancer March 2013)
Health & Safety
We are committed to Health and Safety and always striving to work smarter. We use the BWARE health and Safety System.
Thank You!
We really appreciate you taking the time to get to know us. To talk further about how we can work together, get in touch on 04 237 4608. We look forward to talking hearing from you!