Downpipes
Aotea Roofing Limited can provide pricing for supply and installation of Colorflo Metal downpipes or PVC downpipes.
Colorflo Metal Downpipes
Colorflo Metal Downpipes are a pre-painted downpipe system that allows you to match your fascia, gutter, roof, wall colour or even window joinery. Suitable for new and existing homes, Colorflo® Downpipes are available in a range of colours to complement any architectural style. Made from pre-painted metal, Colorflo Downpipe systems are designed to last, retaining their good looks for years.
Colorflo Downpipes are available in steel and copper and have a complete range of pre-painted and pre-cast bends, clips and fittings, making installation fast and simple, and best of all there is no painting required. The downpipes will be available in 80mm sizes and fit most gutter profiles.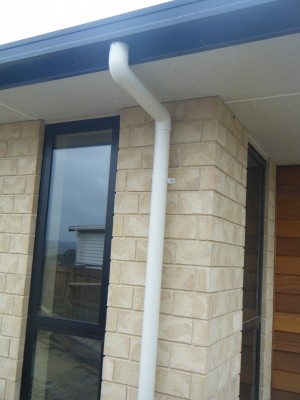 PVC Downpipes
We use the marley brand of pvc downpipes.
Marley offers a wide range of different spouting profiles and downpipes to suit differing levels of rainfall and also to suit different styles of houses.
Marley's spouting systems are manufactured in New Zealand to perform in our harsh climate. They are UV resistant, to deal with our long summer days. Marley spouting and downpipes are flexible, to withstand heavy snowfalls in the deep south, and our spouting will not corrode, which is particularly important in coastal areas where the salt-laden air is more corrosive.