Butynol® is a synthetic butyl rubber membrane for roofing and waterproofing that is marketed by Ardex New Zealand Limited with a material Warranty when fixed by trained Butynol Waterproofing Applicators.
Butynol roofs resist ageing from heat sunlight and ozone
Excellent UV resistance
Butynol remains flexible through extreme temperature ranges
PRODUCT SUITABILITY
Butynol® Roofing Membranes are for use on roofs, decks and balconies where an impervious waterproof membrane is required to prevent damage to building elements and adjoining areas.
PRODUCT THICKNESS
The 1.0mm thickness product is designed for use on roofs and gutters, and will accommodate light traffic
The1.5mm is for walk out decks and high maintenance areas
The 2.25mm is a heavy duty product that is custom made on request.
The effective control of internal moisture must be considered at the design stage due to the impermeability of the membrane. Refer to BRANZ publication "Good Practice Guide to Membrane Roofing"
Timber framing systems must comply with NZS 3604,or where specific engineering design is used, the framing shall be of at least equivalent stiffness to the framing provisions of NZS3604, or comply with the serviceability criteria of NZS 4203
BUTYNOL IS BRANZ APPRAISED
BRANZ Appraised, E2/AS1 Acceptable Solution
BUTYNOL DURABILITY
Butynol® protects against water, moisture vapour,gases, sun, ozone, frost, acids, chemicals and bacteria.Butynol® resists tearing, flex cracking, bubbling and abrasion. It is extremely strong, has a long life and is versatile.
MAINTENANCE
CLEANING WEATHERED BUTYNOL® Use sugar soap to remove oxidation and restore surface.Wind blown dirt is more noticeable on low slope roofs,particularly on black Butynol®.
PAINTING OVER BUTYNOL®
Use Ardex WPM 908. Wash with Sugar Soap. Beware of using non Ardex primers as this may effect your Butynol® Warranty.
FIRE RATING
The Butynol® roofing system must be considered combustible but may be used on buildings for all purpose groups, subject to the requirements of NZBC Acceptable Solution C/AS1 Part 7, Paragraph 7.11.1.
PRODUCT WARRANTY
When laid by an approved Applicator in accordance with Ardex's specifications, a material warranty for up to 20years (covering the Membrane, adhesive and tape) is available. Aotea Roofing Limited are approved applicators.
For more information on our workmanship and warranties, please visit our workmanship and warranties page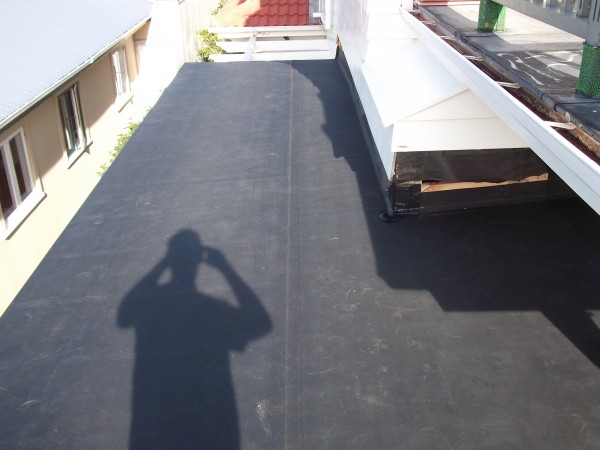 NEW ROOFING/REROOING? TALK TO US!
If you're interested in New Roofing or Re-Roofing, we'd love to hear from you. For an obligation free chat, simply give us a call on 04 237 4608 or drop us an email at aotearoofing@gmail.com and we'll be in touch fast.